Daily Inspiration
Jan.09
START OVER
When you've trusted God and walked his way
When you've felt his hand lead you day by day
But your steps now take you another way ...
Start over.
When you've made your plans and they've gone awry
When you've tried your best and there's no more try
When you've failed yourself and you don't know why ...
Start over.
When you've told your friends what you plan to do
When you've trusted them and they didn't come through
And you're all alone and it's up to you ...
Start over.
When you've failed your kids and they're grown and gone
When you've done your best but it's turned out wrong
And now your grandchildren come along ...
Start over.
When you've prayed to God so you'll know his will
When you've prayed and prayed and you don't know still ...
When you want to stop cause you've had your fill ...
Start over.
When you think you're finished and want to quit
When you've bottomed out in life's deepest pit
When you've tried and tried to get out of it ...
Start over.
When the year has been long and successes few
When December comes and you're feeling blue
God gives a January just for you ...
Start over.
Starting over means "Victories Won"
Starting over means "A Race Well Run"
Starting over means "God's Will Done"
Don't just sit there ..............
START OVER
--Written by Woodrow Kroll
Daily E-Cards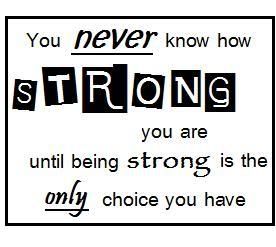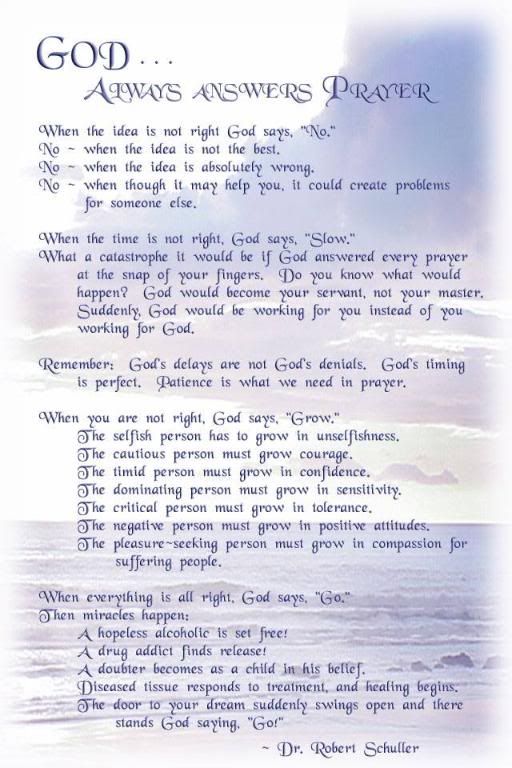 Daily Humor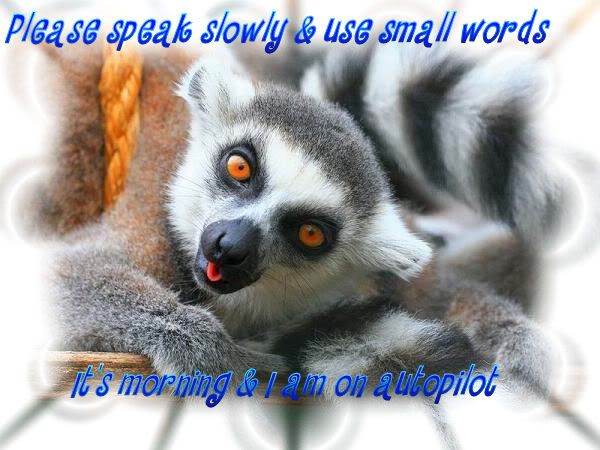 A man who smelled like a distillery flopped on a subway seat next to a priest.
The man's tie was stained, his face was plastered with red lipstick, and a half
empty bottle of gin was sticking out of his torn coat pocket. He opened his
newspaper and began reading. After a few minutes, the disheveled guy turned
to the priest and asked, "Say, father, what causes arthritis?"


"Mister, it's caused by loose living, being with cheap, wicked women,
too much alcohol and a contempt for your fellow man."

"Well I'll be." the drunk muttered, returning to his paper.

The priest, thinking about what he had said, nudged the man and apologized.

"I'm very sorry. I didn't mean to come on so strong. How long have you had arthritis?"

"I don't have it father. I was just reading here that the Pope does."



Daily Art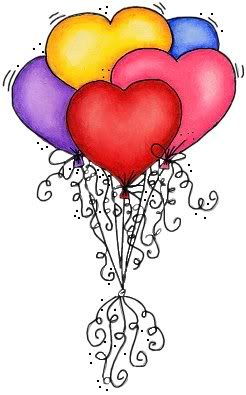 ~~~~~~~~~~~~~~~~~~~~~~~~~~~~~~~~~~~~~~~~~




Sherri Emily



Thank you for reading this Daily Inspiration
To read more Daily Inspiration's click here to go to the Daily inspiration index page

If you enjoy a good joke to start your day click here to go to the humor index page

To read more poems go to the poetry index

Do you write poetry? Would like to share your poems? Click here

Home |
Articles |
Family Tips |
Money/Business |
Health/Fitness |
House Tips |
Auto Tips |
Sports/Hobbies |
Grandma's Tips |
Wisdom & Humor |
*Note - In accordance with Title 17 U.S.C.
Section 107, any copyrighted work distributed under fair use without profit or payment to those who have expressed a prior interest in receiving the included information for non-profit research and educational or criticism purposes only. We make no claims to All graphics, art, snags, tubes, etc. And we charge no fee for services. We do this because we love to give to others and make people smile :D If you see a graphic, comic, photo, joke, poem, quote, etc., that you feel belongs to you and you wish to have it removed from this website, please go to contact link and write to editors and they will promptly remove such graphic, comic, photo, etc. from the website so long as you have your proof of copyright. Thank you and enjoy everyday-wisdom.com Daily Inspiration's by Miss Sherri Emily.