Daily Inspiration
Sept 29
A Smile
A smile costs nothing, but gives much-
It takes but a moment, but the memory of it usually lasts forever.
None are so rich that can get along without it-
And none are so poor but that can be made rich by it.


It enriches those who receive, without making poor those who give-
It creates sunshine in the home,
Fosters good will in business,
And is the best antidote for trouble-
And yet it cannot be begged, borrowed, or stolen, for it is of no value
Unless it is given away.


Some people are too busy to give you a smile-
Give them one of yours-
For the good Lord knows that no one needs a smile so badly
As he or she who has no more smiles left to give.


Author Unknown



Daily E-Cards n Snags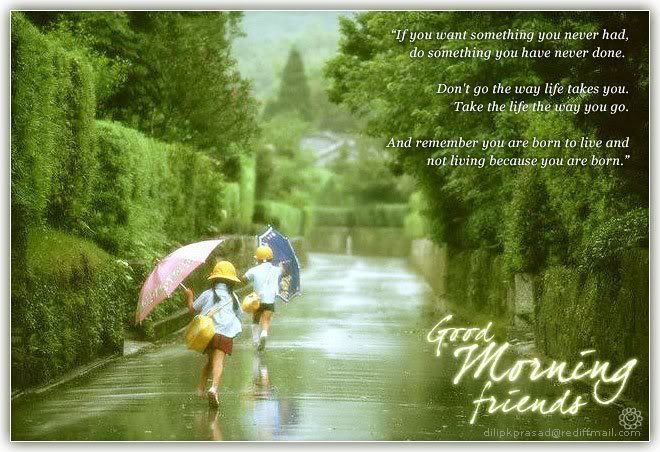 Daily Humor


Daily Joke

Three Legged Turkey

A man was driving down a country road one day at 45 miles per hour when suddenly he noticed a 3-legged
turkey running at the same speed beside his truck. Though he thought this odd, the man decided to speed
up so he wouldn't cause an accident with the turkey.


The man sped up to 55 miles per hour, but low and behold, so did the 3-legged turkey.


The man then sped up to 65 miles per hour only to again be equaled in speed by the 3-legged turkey.


As the man watched in amazement, the turkey suddenly made a sharp left turn and took off down a side road toward a small farm.


The man quickly also made the left turn and followed the turkey to the small farm, parking out front.


Looking around the man found the farmer around back in the midst of many 3-legged turkeys.


After greeting the farmer, the man asked him why he was raising 3-legged turkeys.


"Well we figure," said the farmer, "that with an average family of 3 people, only 2 can have a turkey leg with an average turkey.
But with a three legged turkey, each member of the family can enjoy a turkey leg for of their own on Thanksgiving."


"That's pretty wise," said the man, who then asked "Well how do your 3-legged turkeys taste?"


"I don't know," said the farmer. "We've never been able to catch one."



Daily Art




~~~~~~~~~~~~~~~~~~~~~~~~~~~~~~~~~~~~~~~~~~~~~~~~~~~~~~~~~~~~~~~




Miss Sherri Emily


Thank you for reading this Daily Inspiration


To read more Daily Inspiration's click here to go to the Daily inspiration index page

If you enjoy a good joke to start your day click here to go to the humor index page

To read more poems go to the poetry index

Do you write poetry? Would like to share your poems? Click here

Home |
Articles |
Family Tips |
Money/Business |
Health/Fitness |
House Tips |
Auto Tips |
Sports/Hobbies |
Grandma's Tips |
Wisdom & Humor |
*Note - In accordance with Title 17 U.S.C.
Section 107, any copyrighted work distributed under fair use without profit or payment to those who have expressed a prior interest in receiving the included information for non-profit research and educational or criticism purposes only. We make no claims to All graphics, art, snags, tubes, etc. And we charge no fee for services. We do this because we love to give to others and make people smile :D If you see a graphic, comic, photo, joke, poem, quote, etc., that you feel belongs to you and you wish to have it removed from this website, please go to contact link and write to editors and they will promptly remove such graphic, comic, photo, etc. from the website so long as you have your proof of copyright. Thank you and enjoy everyday-wisdom.com Daily Inspiration's by Miss Sherri Emily.