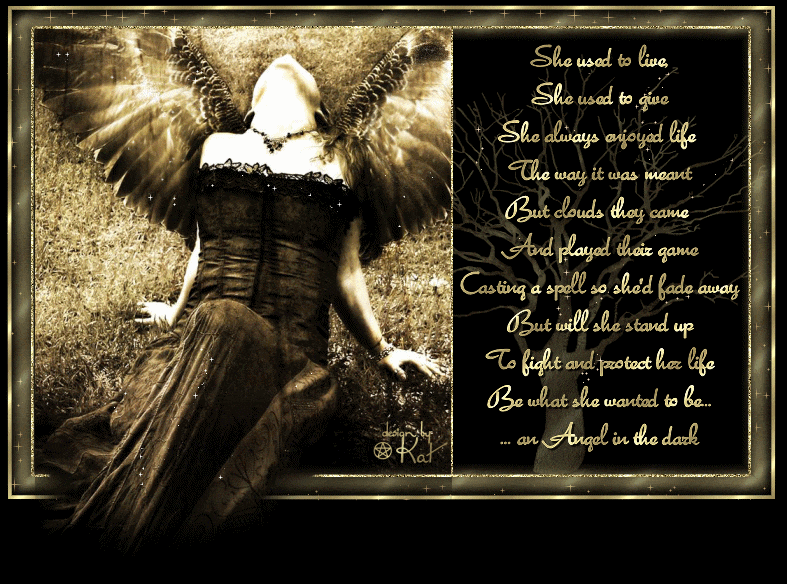 Afflicted Heart

Shattered to peices,
Scattered All across the floor.

Yet somehow remains beating,
As you walk out the door.

Confusion and frustration is what's left behind,
By those torturous words that replay in my mind.

Laying here crying, praying its just a dream,
Gasping to catch my breath from my silent screams.

Even though the pain feels like its too much to bear,
I know there's a reason, a reason its there.

The pain alone keeps my heart beating,
Only I can be responsible for its mistreating.

But I know that this proves my feelings were real,
I have nothing left except to speak how I feel.

Broken to bits, tattered and torn, I'll eventually pick up the peices,
And once again be Reborn.


© Stephanie R. Perrault

Dedicated to: hurting hearts everywhere

Editor's Note: Contest Entered Poem



If you enjoy a good joke to start your day click here to go to the humor index page


Thank you for reading this Poem

To read more poems go to the poetry index

Do you write poetry? Would like to share your poems? Click here

Home | Articles | Family Tips | Money/Business | Health/Fitness |
House Tips | Auto Tips | Sports/Hobbies | Grandma's Tips |
Wisdom & Humor |
*Note - In accordance with Title 17 U.S.C.
Section 107, any copyrighted work distributed under fair use without profit or payment to those who have expressed a prior interest in receiving the included information for non-profit research and educational or criticism purposes only. We make no claims to All graphics, art, snags, tubes, etc. And we charge no fee for services. We do this because we love to give to others and make people smile :D If you see a graphic, comic, photo, joke, poem, quote, etc., that you feel belongs to you and you wish to have it removed from this website, please go to contact link and write to the editors and they will promptly remove such graphic, comic, photo, etc. from the website so long as you have your proof of copyright. Thank you. .