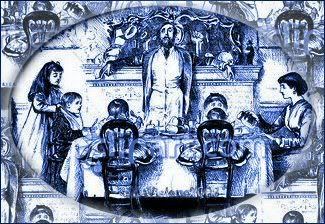 Family Man


I want a big family
Three boys, three girls, a couple of animals
All of them tearing up the house like cannibals
Toys and sippy cups, the signs are everywhere in sight
Me and my wife taking turns filling bottles throughout the night

Elementary days; back and forth to school, my kids - excelling
Ask your mother about that one, Daddy's not too good with spelling
Summer breaks and road trips home, all of us crammed inside our van
As Aunt's and Uncles wait to share their love as often as they can

Teenagers; the latest fashions, sports, and grades that steadily move up
Each child with their own opinions, and music that I won't approve of
Broken rules and worn out excuses, sometimes the raise of a voice
Girls are trouble anyway you look at it, and boys will be boys

High school, puberty and broken hearts ahead, oh brother!
I say no, they say ok, then sneak around and ask their mother
Relationships and drug experiments, and maybe some suspensions
Though, I know that they will learn their lessons, with the best intentions

Maybe college or the military, whichever they do choose
They grow up and leave the house, while me and Mommy share the blues
Less frequent calls, less information about how their life is going
The hardest part for a parent, I'm sure, is wondering and not knowing

Someday history repeats itself, they're parents of their own
Now me and Grandma share our love while you make road trips to our home
I may not know what I am in for, or what this life has in store for me
But wiith my wife, children and animals, a family man I can be

© Michael T. Perrault







Thank you for reading this poem
To read more poems go to the poetry index
Do you write poetry? Would like to share your poems? Click here





Home | Articles | Family Tips | Money/Business | Health/Fitness |
House Tips | Auto Tips | Sports/Hobbies | Grandma's Tips |
Wisdom & Humor |
Authors maintain Copyrights on the poetry contained on this page.
*Note - In accordance with Title 17 U.S.C.
Section 107, any copyrighted work distributed under fair use without profit or payment to those who have expressed a prior interest in receiving the included information for non-profit research and educational or criticism purposes only. We make no claims to All graphics, art, snags, tubes, etc. And we charge no fee for services. We do this because we love to give to others and make people smile :D If you see a graphic, comic, photo, joke, poem, quote, etc., that you feel belongs to you and you wish to have it removed from this website, please go to contact link and write to President/Vise President and they will promptly remove such graphic, comic, photo, etc. from the website so long as you have your proof of copyright. Thank you. .