Grooming a Horse: The Do's and Dont's Throughout This Process

Grooming a horse for the first time can certainly have you feeling a bit overwhelmed with all the strange-looking brushes, combs, and sponges you'll need to use. You may be wondering how and when to use each of them. You may be asking yourself, "Do I start with my horse's mane or with his hooves?" This information should help ease your first-time jitters.
There is no right or wrong way to groom a horse, and while people may all groom their horses a bit differently, there are some steps that should not vary. The first, and most important, step you should take when you are grooming
a horse is to be sure he is safely and securely attached to the cross ties. Be sure that your horse's halter is properly fastened and hook the halter to both cross ties before you pick up any of the equipment. Now that your horse is secured, it is time to begin the grooming process. You may find that your horse isn't too keen on the idea of you picking up his legs. If this is the case, you may decide it would be better to go ahead and get the hard part over with first, because by the time you finish, he's going to be rather impatient with you. For obvious reasons, if your horse doesn't want you picking up his foot, you won't be able to unless he is thrown off balance a bit. However, most horses are fairly cooperative, since they know from experience that you will be able to get rid of all those painful pebbles.
When grooming
a horse, you should simply stand beside him so that you are in line with his left shoulder and are facing his back. Take your hand and run it down along his leg to hopefully cause him to raise his foot.. If he fails to do this, you will then have to lean up against his shoulder to cause him to lose balance, making him life his leg. Be careful not to bend his leg at an odd angle.
Brace the hoof with one hand and use the hoof pick to clean out all of the dirt, pebbles and other debris lodged in the hoof. Remember not to scrape the pick over the frog itself, as this part of the hoof is much more tender and sensitive than the other parts. Repeat this process with the other three hooves.
Now, it is time to remove clods of dirt and loose hair from the horse's body. To get this done, use a curry comb. Using a circular motion, start at the top of the horse's neck, going down to his chest, over his shoulder, along his back, onto his stomach, over his rump and down on to the upper part of his back left leg. Switch to the right side of your horse and repeat the process. Be especially careful when you use the curry comb on your horse's sides and stomach. Most horses are very sensitive in these areas. Some horses don't tolerate a curry comb used on his sides and stomach very well at all, so in this case, you can use a dandy brush on these particular areas instead. If your horse has a lot of mud on his legs, you should use the curry comb or dandy brush on his legs, as well. Again, be very careful, as the legs of a horse are extremely sensitive.
Once the dirt has been pulled to the surface of the horse's coat by the curry comb, it is time to use the body brush. Use the same circular technique you used to move the curry comb over his body, and brush in short, brisk movements and going with the grain of the horse's coat. Stop brushing every few strokes to clean the brush with your curry comb.
Once your horse's coat looks sleek and glossy, it is time to move on to the head. Carefully use the damp sponge to wipe his face and don't forget to wipe the inside of the nostrils...that's just part of grooming
a horse! Most of us prefer to also groom the horse's head with the body brush. If your horse doesn't like the brush near his head, it's perfectly fine to skip this step, as sponging him off should suffice.
The final step in grooming a horse is combing out the horse's mane and tail. Remember, you should never stand behind your horse! Always lift his tail to the side to comb it, instead.
We hope you have found this article on how to groom a horse of value. As you can see, there's more to it than combing and brushing...there are safety factors to consider as well!

If you found this article on grooming a horse helpful, click this link for more information geared toward the inexperienced horse owner:
An Overview of Grooming Your Horse


Do you have a passion for horses, would you like to build your own website about horses? Would you like to create a site to sell or trade your horses? For more information take a few moments to play this video.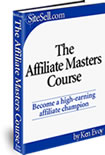 Many people want to make money working at home through the Internet. One way to do that is to become an affiliate with companies who will pay you commission when someone comes from your website and buys something from them.
Here you can download the Affiliate Masters Course created by Dr. Ken Evoy. It is far and away the best information on making money as an affiliate we know of.
We're happy to offer it to you for free. To read more about the package click the link below!


Free 193-Page Affiliate Masters Course


.



To preview the article index page click here

To Go To Top of Page on Grooming a Horse Click Here
Home |
Articles |
Family Tips |
Money/Business |
Health/Fitness |
House Tips |
Auto Tips |
Sports/Hobbies |
Grandma's Tips |
Wisdom & Humor |