Starting Your Own Business?
Passion and Commitment Are Key Ingredients for Success


So you've decided to start your own business? When first starting your own business, after taking care of all the required licenses and such, you will then be faced with making your dream a reality on an ongoing and daily basis if you want to be successful.
From the time you first imagine the dream of starting your own business until the time you retire, you should know that passion and commitment are key ingredients for success. These two factors determine how you, as well as others, will view your business.
Until you are passionate about and committed to starting your own business, ideas, or projects, there will always be hesitancy in your actions! However, once you are committed, your visions of success will become more real and your life will begin to change. Events will occur that will help move you forward. Many inspiring and knowledgeable people will come into your life and it will seem like miracles occur. You'll more easily find low-cost promotion and marketing ideas to help you grow your business. Most people are generally very enthusiastic when first dreaming of starting their own business. Remember how happy you were when you first thought about your idea? After spending time developing ideas, however, some people begin to question themself, they have doubts and often times change their minds and never follow through. Having doubts is just part of the normal thinking process and is very common.
Once you've taken the initial steps to starting your own business, you are making your dream become a reality. Remember, hard work is not always exciting and being committed during these times can be difficult! Don't confuse excitement with passion; you might not be "all excited" about the product or service you're offering, but that doesn't mean you aren't passionate about it! It only means that you are now taking the development of your product or service seriously.
Remember that while dreaming big can be fun but make sure you're making responsible decisions every step along the way. The "reality check" only verifies your commitment to implementing your ideas. This very important step doesn't measure your excitement about your product or service; it only provides you with the opportunity to "check in" with your passion to make sure that what you are working on connects to your heart and your life. Only you can determine whether you are passionate about your product or service.
Unfortunately there is no checklist available, so it's up to you to be honest with yourself. Does your idea still light a fire in your heart? If so, be committed to developing your idea and you will be successful. If it doesn't still light your fire, revisit your intent and see how your product or service can fit into your passion.
Last but not least, never be afraid to "let go" of ideas that do not fit your specific goals. It's easy to get side tracked working on the wrong products and services. What you've done up until now has helped you grow, but that doesn't mean you're headed in the right direction.
What you've developed up until now may no longer fit. Don't kid yourself here. It's important to keep in mind how to choose the right business . And it is by focusing on your goal rather than a specific product or service may that will help you find what you are truly passionate about.


For more business related articles read these pages

Buy an existing business
Effective communication for managers
Entrenpreneur tips
How to choose the right business
Leverage and negotiation
Money and business



Would you like to build your own successful website? You can! With Site Build-It, it is much easier than you think! Take a few moments and watch this video from someone who knows.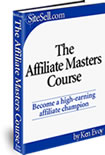 Many people want to make money working at home through the Internet. One way to do that is to become an affiliate with companies who will pay you commission when someone comes from your website and buys something from them.
Here you can download the Affiliate Masters Course created by Dr. Ken Evoy. It is far and away the best information on making money as an affiliate we know of.
We're happy to offer it to you for free. To read more about the package click the link below!


Free 193-Page Affiliate Masters Course


.



To Go To Top of Page Starting Your Own Business
Home |
Articles |
Family Tips |
Money/Business |
Health/Fitness |
House Tips |
Auto Tips |
Sports/Hobbies |
Grandma's Tips |
Wisdom & Humor |